The World Affairs Council of Orange County presents:
Veterans Day:
Honoring Our American Patriots
featuring
Judge Frederick P. Aguirre (Ret.)
who will present his extensive research on veterans of Latino heritage
Moderated by:
Col. Evin Planto (Ret.)
American Legion Post 291 Commander
An In-Person Lunch Event
Date & Time:
Sunday, November 12, 2023
12:00 PM: Reception & Lunch
12:45 PM: Main Program and Q&A
Location:
American Legion Post 291
215 15th St.
Newport Beach, CA 92663
Tickets:
Members of WACOC: $60
Non-members: $70
YPIN Members & Students get a flat rate fee of:
Young Professional Members: $50
Students: $20
Parking:
Ensure that you arrive early to get parking!
1.) Download the ParkMobile App on your phone.
2.) Add your car's license plate number and a credit card.
3.) Find a parking spot near 15th Street, Balboa Blvd., or 14th Street.
*You will most likely find the most available parking on Balboa Blvd.
4.) Find the ParkMobile zone sign and enter the zone number in the ParkMobile app.
5.) Select the amount of time you will be parking (we suggest 3-4 hours)
Address of the American Legion 291 is: 215 15th St, Newport Beach, CA 92663
Panelist Bios:
Judge Frederick P. Aguirre (Ret.)
Frederick P. Aguirre's family has resided in Orange County since 1919. His father, Alfred V. Aguirre, was a combat veteran of World War II and Julia P. Aguirre, was a Rosie the Riveter. Judge Aguirre, the oldest of 7 children, was born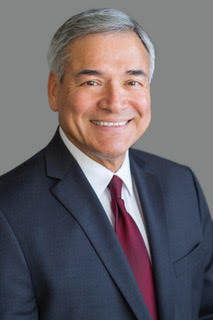 in Fullerton in 1946, raised in Placentia, was awarded a full tuition academic scholarship from USC and graduated in 1968. He received his law degree in 1971 from UCLA School of Law and worked for 3 years with the Legal Aid Society of Santa Clara County. For 28 years he practiced law here in Orange County and in 2002 was appointed to the Superior Court where he presided until his retirement in 2017. Since that date he has been a private judge serving as a Mediator and Arbitrator. The Judge, his wife, Linda Martinez Aguirre, and Rogelio C. Rodriguez have co-authored 4 books highlighting over 1,000 local American veterans of Latino heritage and have produced a documentary film, American Patriots: Latinos in World War II.