Meet and learn from the people who shape our world
As a World Affairs Council member, you join a diverse group of individuals who are passionate about expanding international awareness. Members participate in world class events featuring speakers who provide the stories behind the headlines as well as special receptions and gatherings.
As a member you will have the opportunity to build relationships with other liked minded individuals and professionals that are in the local international affairs community. Your membership is valuable in supporting World Affairs Council programming and student outreach in the community.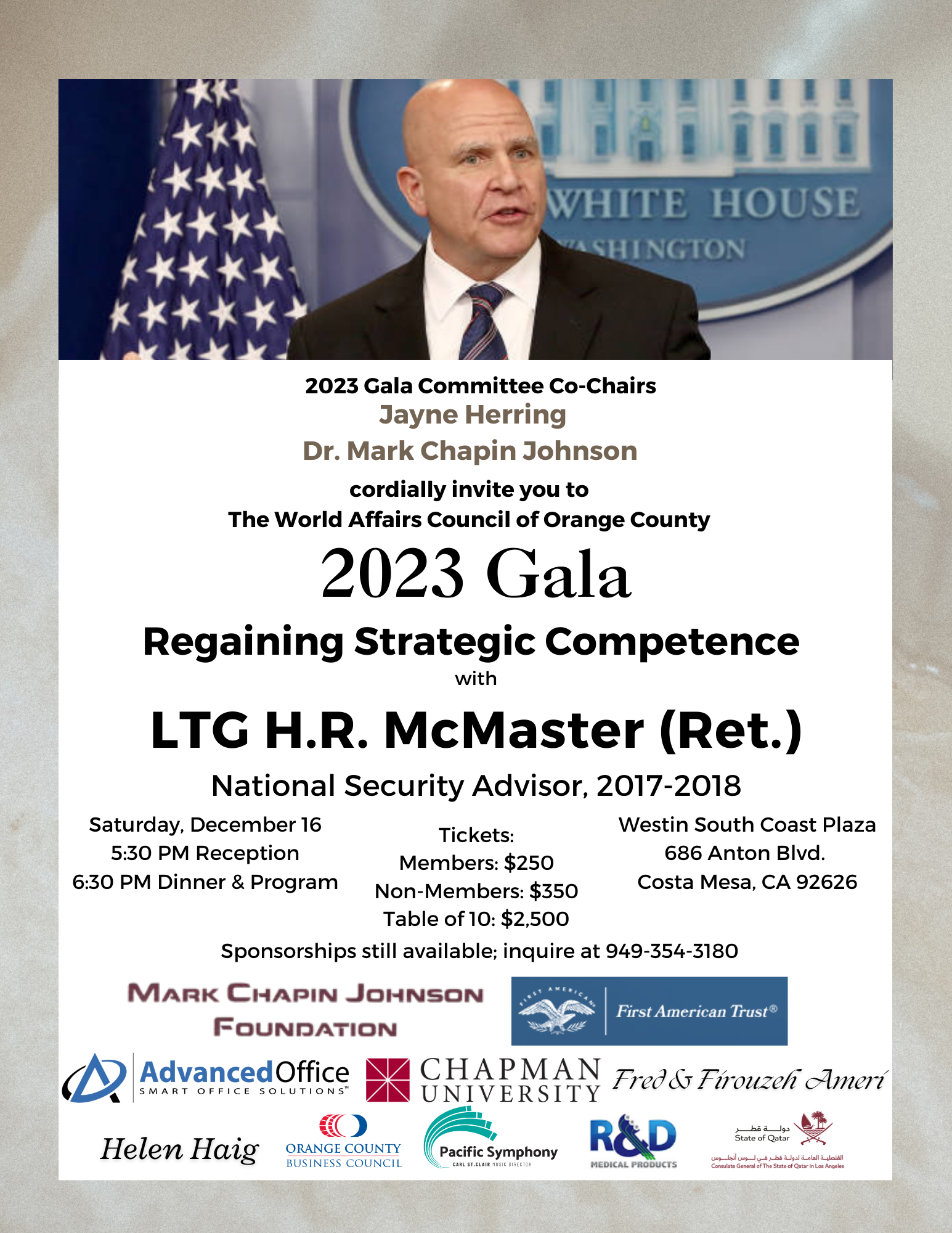 Location:
Westin South Coast Plaza, 686 Anton Blvd. Costa Mesa, CA 92626
2023 Gala Committee Co-Chairs  Jayne Herring Dr. Mark Chapin Johnson cordially invite you to WACOC'S 2023 Gala "Regaining Strategic Competence" featuring LTG H.R. McMaster (Ret.) National Security Advisor (2017-2018) Date & Time: Saturday, December 16th, 2023  5:30 PM ...
Learn More
Join the WAC of Orange County
The World Affairs Councils of America was founded in 1918.
It is the largest nonprofit international affairs organization in the United States.
Get to know us
Impacting American Foreign Policy
Engaging thought leaders, change-makers, and citizens to share ideas, learn from each other, and effect change.

The World Affairs Councils of America is the largest non-profit grassroots organization in the United States dedicated to educating and engaging Americans on global issues with 94 councils across 40 states reaching more than half a million people a year.
Welcome to Orange County's Premier Forum
on World Affairs
Cultivating Political Discussion
We are part of the World Affairs Councils of America, a nonprofit and nonpartisan national organization based in Washington, DC. See what's happening around America.