Meet and learn from the people who shape our world
As a World Affairs Council member, you join a diverse group of individuals who are passionate about expanding international awareness. Members participate in world class events featuring speakers who provide the stories behind the headlines as well as special receptions and gatherings.
As a member you will have the opportunity to build relationships with other liked minded individuals and professionals that in the local international affairs community. Your membership is valuable in supporting World Affairs Council programming and student outreach in the community.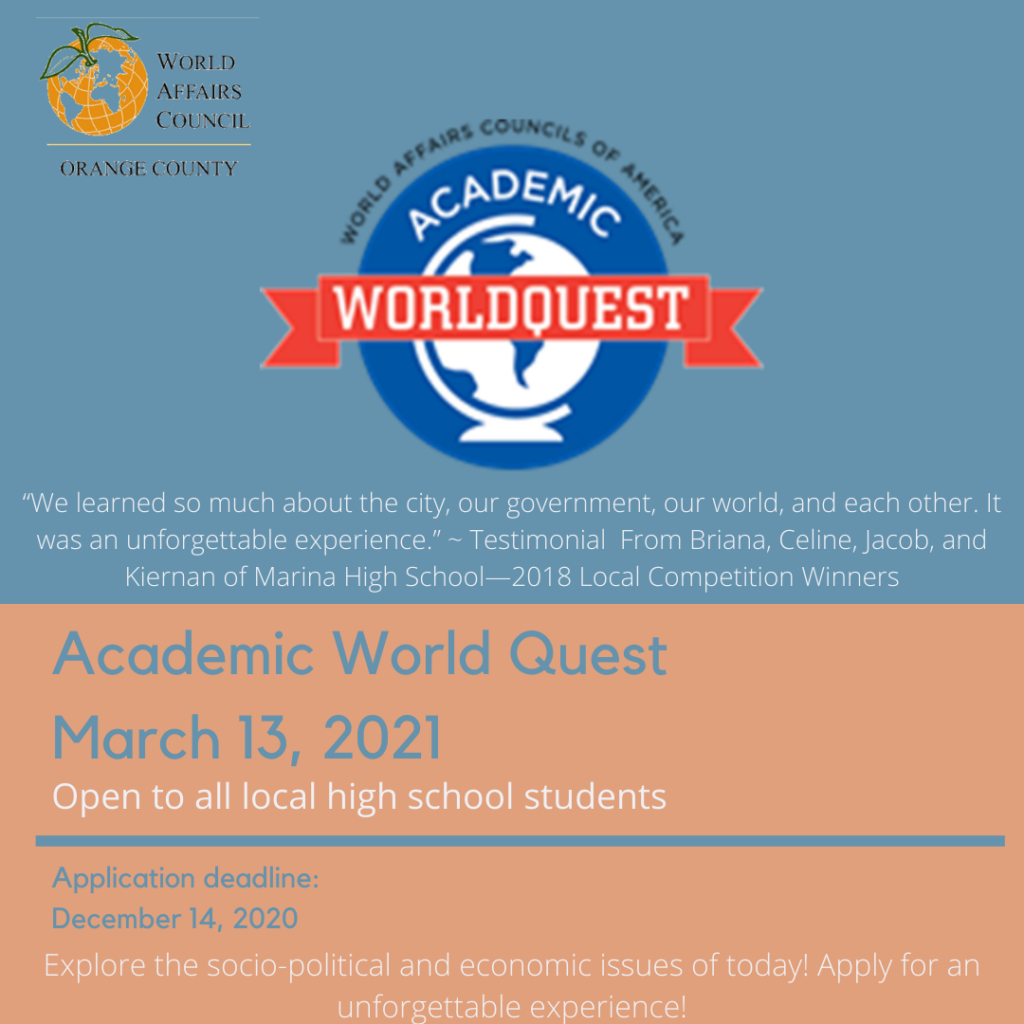 March 13, 2021: Academic World Quest
Saturday, March 13, 2021 – Time TBD Join the Academic WorldQuest Competition TODAY!!            Academic WorldQuest is a flagship program of the World Affairs Councils of America. This year the local competition will be held on March 13th, 2021. AWQ engages more than 4,000 high school students annually across the U.S to test their knowledge of global issues and foreign policy in competitions across the country. AWQ's mission is to offer high school students an interactive way to learn about critical challenges in today's world. A Once in A Lifetime Experience!! "We learned so much about the city, our government, our world, and each other. It was an unforgettable experience." ~ Testimonial from Briana, Celine, Jacob, and Kiernan of Marina High School – 2018 Local Competition Winners Application Deadline: Monday, December 14, 2020 Announcing 2021 AWQ Topics: Country in Focus: Uzbekistan Global Protests Shifting Sands: The Arab Spring 10 Years On The International Labor Organization (ILO) The US Foreign Service in the 21st Century Exploring Peace in a World of Conflict Fraying Alliances Looking to a Post-Pandemic Economy Current Events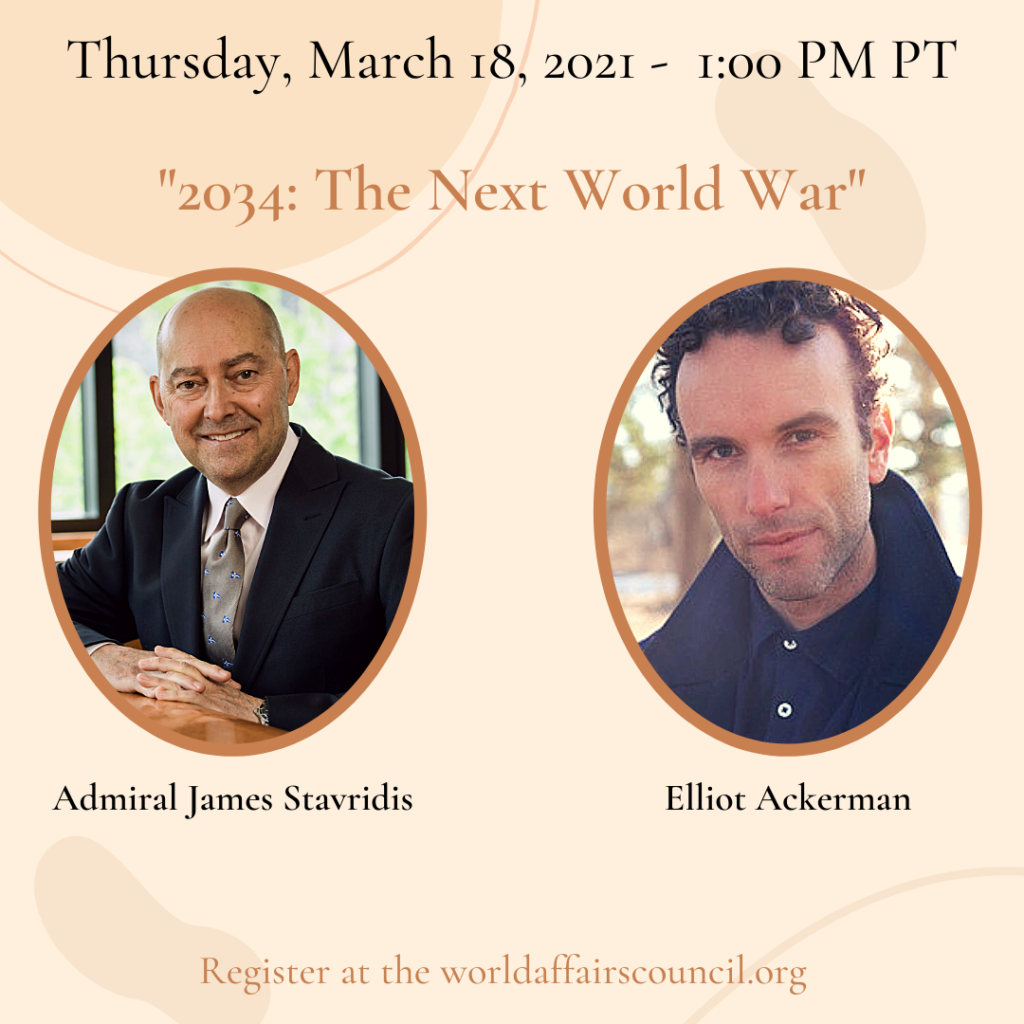 March 18th, 2021 – "2034: The Next World War" with Admiral James Stavridis & Elliot Ackerman
Thursday, March 18th, 2021 – 1:00 PM PDT The World Affairs Council of Orange County Presents: Purchase the Book Here! "2034: The Next World War" Free Webinar with Elliot Ackerman and Admiral James Stavridis Elliot Ackerman is the author of several novels, most recently Red Dress In Black and White. His books have been nominated for the National Book Award, the Andrew Carnegie Medal in both fiction and non-fiction, and the Dayton Literary Peace Prize among others. His writing often appears in Esquire, The New Yorker, and The New York Times where he is a contributing opinion writer, and his stories have been included in The Best American Short Stories and The Best American Travel Writing. He is both a former White House Fellow and Marine, and served five tours of duty in Iraq and Afghanistan, where he received the Silver Star, the Bronze Star for Valor, and the Purple Heart. He divides his time between New York City and Washington, D.C. Website: www. ElliotAckerman.com; Twitter: @elliotackerman Admiral James Stavridis, USN (Ret.) spent more than thirty years in the U.S. Navy, rising to the rank of four-star Admiral. He was the Supreme Allied Commander at NATO and previously commanded U.S. Southern Command, overseeing military operations in Latin America. At sea, he commanded a Navy destroyer, a destroyer squadron, and an aircraft carrier battle group in combat. He holds a Ph.D. from The Fletcher School of Law and Diplomacy at Tufts University, where he recently served five years as dean. He has published nine previous books and hundreds of articles and is a frequent national and international television commentator as well as a Bloomberg Opinion weekly columnist, and a monthly columnist for TIME Magazine. He is chairman of the Board of Counselors of McLarty Global Associates, an international consulting firm, and an operating executive of the Carlyle Group, an international private equity firm. Website: www.AdmiralStav.com ; Twitter: @stavridisJ
Join the WAC of Orange County
The World Affairs Councils of America was founded in 1918.
It is the largest nonprofit international affairs organization in the United States.
Get to know us
Impacting American Foreign Policy
Engaging thought leaders, change-makers, and citizens to share ideas, learn from each other, and effect change.

The World Affairs Councils of America is the largest non-profit grassroots organization in the United States dedicated to educating and engaging Americans on global issues with 94 councils across 40 states reaching more than half a million people a year.
Welcome to Orange County's Premier Forum
on World Affairs
Cultivating Political Discussion
We are part of the World Affairs Councils of America, a nonprofit and nonpartisan national organization based in Washington, DC. See what's happening around America.