Tuesday, November 10th, 2020 at 1:00 PM PDT
Zoom Link: Press Here
Zoom PMI: 955 7345 8253
The World Affairs Councils of Orange County Presents:
"The Cabinet: George Washington and the Creation of an American Institution"
A free webinar with Dr. Lindsay Chervinsky and moderator Jeremi Suri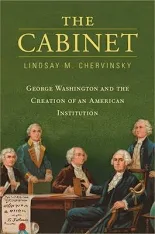 Dr. Lindsay M. Chervinsky is an expert in the cabinet, presidential history, and U.S. government institutions. Currently, she is serving as Scholar in Residence at the Institute for Thomas Paine Studies at Iona College and Senior Fellow at the International Center for Jefferson Studies. Previously, she was a historian at the White House Historical Association and a Postdoctoral Fellow at the Center for Presidential History at Southern Methodist University.
She received her B.A. in history and political science from the George Washington University, and completed her masters and Ph.D. from the University of California, Davis. She is the author of the award-winning The Cabinet: George Washington and the Creation of an American Institution, which was published by Harvard University Press on April 7, 2020. When she's not writing, researching, or speaking about history, she loves to hike with her husband and her dog, John Quincy Dog Adams.
Jeremi Suri holds the Mack Brown Distinguished Chair for Leadership in Global Affairs at the University of Texas at Austin. He is a professor in the University's Department of History and the Lyndon B. Johnson School of Public Affairs. Professor Suri is the author and editor of ten books on contemporary politics and foreign policy. His most recent book, The Impossible Presidency: The Rise and Fall of America's Highest Office, was widely reviewed across the United States. Professor Suri's research and teaching have received numerous prizes. In 2007 Smithsonian Magazine named him one of America's "Top Young Innovators" in the Arts and Sciences.
In 2018 he received the President's Associates Teaching Excellence Award from the University of Texas, and the Pro Bene Meritis Award for Contributions to the Liberal Arts. His writings appear widely in blogs and print media (including the New York Times, Washington Post, Houston Chronicle, Atlantic, Wired, New Republic, Foreign Policy, and others.) Professor Suri is also a frequent public lecturer and guest on radio and television programs. He hosts a weekly podcast, "This is Democracy," available through his professional webpage: http://jeremisuri.net.
Here's the link to our independent bookseller, Chevalier's Books.  Purchase The Cabinet and receive a 15% discount