Wednesday, December 9th, 2020 – 1:00 PM PDT
The World Affairs Councils of Orange County Presents:
Turning Point: Policymaking in the Era of Artificial Intelligence
A free webinar with General John Allen & Director Darrell West, Brookings Institution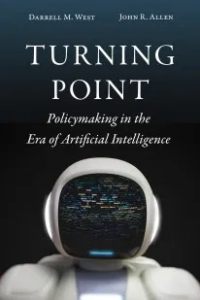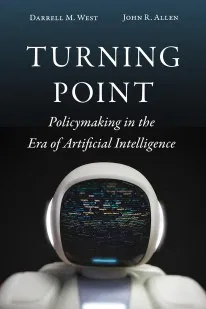 John Rutherford Allen assumed the presidency of the Brookings Institution in November 2017, having most recently served as chair of security and strategy and a distinguished fellow in the Foreign Policy Program at Brookings. Allen is a retired U.S. Marine Corps four-star general and former commander of the NATO International Security Assistance Force (ISAF) and U.S. Forces in Afghanistan.
Beyond his operational and diplomatic credentials, Allen has led professional military educational programs, including as director of the Marine Infantry Officer Program and commanding officer of the Marine Corps Basic School. He twice served at the United States Naval Academy, first as a military instructor, where he was named instructor of the year in 1990, and later as commandant of midshipmen; the first Marine Corps officer to hold this position. Allen was the Marine Corps fellow to the Center for Strategic and International Studies and the first Marine officer to serve as a term member of the Council on Foreign Relations, where today he is a permanent member.
Among his other affiliations, Allen is a senior fellow at the Merrill Center of the Johns Hopkins School of Advanced International Studies and a senior fellow at the Johns Hopkins Applied Physics Laboratory. He is an "Ancien" of the NATO Defense College in Rome, and a frequent lecturer there. Allen is the recipient of numerous U.S. and foreign awards.
He holds a Bachelor of Science in operations analysis from the U.S. Naval Academy, a Master of Arts in national security studies from Georgetown University, a Master of Science in strategic intelligence from the Defense Intelligence College (now National Intelligence University), and a Master of Science in national security strategy from the National Defense University.
Darrell M. West is the Vice President and Senior Fellow of Governance Studies at the Brookings Institution. He holds the Douglas Dillon Chair in Governance Studies. Previously, he was the John Hazen White Professor of Political Science and Public Policy and Director of the Taubman Center for Public Policy at Brown University. His current research focuses on American politics, technology policy, and artificial intelligence.
West is the author of 25 books including Turning Point: Policymaking in the Era of Artificial Intelligence (Brookings, 2020; with John Allen), Divided Politics, Divided Nation: Hyperconflict in the Trump Era (Brookings, 2019), The Future of Work: Robots, AI, and Automation (Brookings, 2018); Megachange: Economic Disruption, Political Upheaval, and Social Strife in the 21st Century (Brookings, 2016), Billionaires: Reflections on the Upper Crust (Brookings, 2014), Digital Schools (Brookings, 2012), The Next Wave: Using Digital Technology to Further Social and Political Innovation (Brookings, 2011), Brain Gain: Rethinking U.S. Immigration Policy (Brookings, 2010), Digital Medicine: Health Care in the Internet Era (Brookings, 2009), Digital Government: Technology and Public Sector Performance, (Princeton University Press, 2005), and Air Wars: Television Advertising in Election Campaigns (Congressional Quarterly Press, 2013), among others.
He is the winner of the American Political Science Association's Don K. Price award for best book on technology (for Digital Government) and the American Political Science Association's Doris Graber award for best book on political communications (for Cross Talk). His books have been translated into Chinese, Japanese, and Korean, and he has delivered lectures in numerous countries around the world.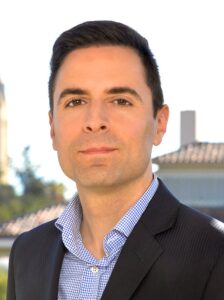 Moderated by Michael Sellitto
Deputy Director, Stanford Institute of HAI
Michael Sellitto is Deputy Director of the Stanford Institute for Human-Centered Artificial Intelligence (HAI). From 2015 to 2018, Michael served in the White House as director for cybersecurity policy on the National Security Council staff. In that role he led international engagement on cybersecurity policy and strategy, promoted international adoption of a framework for strategic stability in cyberspace, and advanced U.S. interests on issues related to the digital economy and Internet governance. He also led international negotiations to develop cybersecurity partnerships. Michael previously served as special assistant to Deputy Secretaries of State William Burns and Antony Blinken, advising them on political, energy, security, and trade issues related to South and Central Asia and on worldwide cyber and counterterrorism policy and operations. He holds a master's degree in Public Policy from Harvard University's Kennedy School of Government and a BS from New York University's Leonard N. Stern School of Business.