*REGISTRATION IS ONLY OPEN TO TRUSTEES AND PREMIUM MEMBERS.
Please do not register for this event unless you are a trustee or premium member.*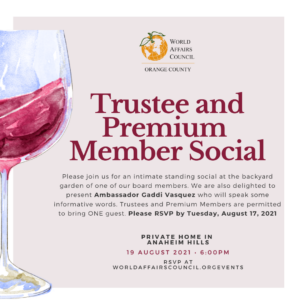 WACOC's Trustee and Premium Member Social, with Honorable Gaddi Vasquez
We invite our Trustees and Premium Member to an intimate get together at the beautiful Anaheim Hills home of one of board members! We are delighted to welcome the Honorable Gaddi Vasquez, to speak on the issue: "Fighting Global Hunger – A Matter of Life and Death". All Trustees and Premium Members may bring up to one guest. Registration closes Tuesday, August 17, 2021. Please note that this is a cocktail event. If you have concerns or require additional accommodation, please do not hesitate to contact us.
Ambassador Gaddi Vasquez was raised in the City of Orange. He is the descendant of migrant farm workers who instilled in him a strong work ethic and the value and reward of serving others. He was the first member of his family to earn a college degree and has been a lifelong advocate against world hunger, poverty, and disease. He has been recognized for his advocacy and support of the underserved both at home and abroad. From 2006 to 2009, Gaddi Vasquez served as U. S. Ambassador to the United Nations Organizations in Rome, Italy. His effective and decisive leadership prompted the Director of the World Food Program to name Ambassador Vasquez as a Champion Against World Hunger.
From 2002 to 2006, Ambassador Vasquez served as Director of the United States Peace Corps and became the third longest serving Director in the Peace Corps' 60-year history. During his tenure, the Peace Corps established the Peace Corps Global AIDS Program which resulted in the development of new country programs with a focus on the President's Emergency Plan for AIDS Relief. He also led the opening of the first Peace Corps program in Mexico and directed the entry or re-entry into 21 Peace Corps countries.
His public service career includes service at the city, county, state and federal levels of government. He began his 28-year career in public service as a police officer in Orange, California and has served as an appointee of three California governors and was appointed by President George H.W. Bush to two federal commissions.
Ambassador Vasquez also served as a senior vice president of government affairs for Edison International and Southern California Edison, one of the nation's largest investor-owned utility companies. He led the company's public affairs at the city, county, state and federal levels of government during one of the most transformative periods in energy policy.